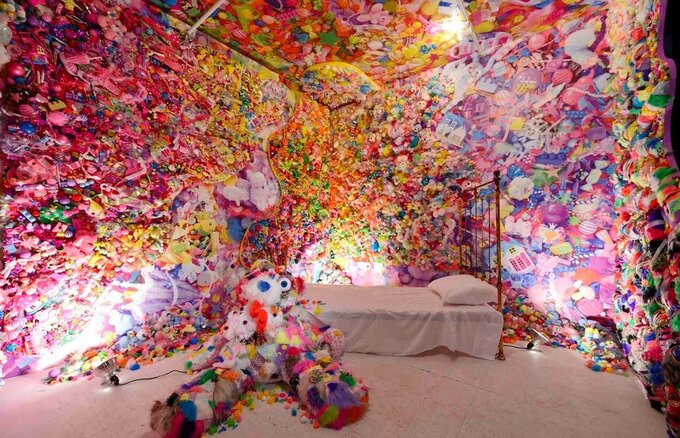 Yesterday I was determined to catch the last performance Masuda-san was hosting in his exbition. It starred Yuka from the famed accesories line 6% Doki Doki and I really didn't want to miss it!
Here I will leave you with Masuda-san's description of his work:
"I have created this work as I was writing my own autobiography. Struggling in this confined space of confession, I battle with the waves of darkness washing up against me in a night without end. I am not trying to express the grotesque through kawaii elements; rather, the essence of kawaii exists in the process by which individuals are attracted to, and become dependent on, kawaii things. The process by which young girls become adults is full of twists and contortions, potentially resulting in colorful mutiny. The distortion and strain of the process of a young girl maturing into an adult. The colorful rebellion of girls. That I have created a safe haven for disobedience is my most cardinal sin. The installation has 6 zones. The seventh? It's entrusted in your hands."
The first zone is "Lust" - a waking dream that is lost at the same moment it is grasped; the second zone is "Future" - hopes and dreams; the third zone is "Delusions" - a complex that expands endlessly; the fourth zone is "Fate" - a muddy stream drawing near; Zone 5 is "Wounds" - trauma that still remains; and Zone 6 is "Reality" - above the rubble of anxiety.
We were not allowed to take video of the performance, but were allowed to take pictures! I took so many haha. Also, I know not everyone will have a chance to see it, so I've narrated down below the performance from the show. I hope you enjoy reading it as much as I loved watching the performance!
The performance was beautiful. Yuka played the part of a girl that was in a lucid dream. She explored the room in disbelief, touching everything to see if it was real. She looked around in awe at the colors and toys, the teddy bear, the bed... She sat down and she suddenly looked quite sad, her eyes seemed to be holding back tears. She must have realized that this is not reality, but just a dream (
in the background a song about Cinderella called "I'm just a poor Cinderella"
). The girl takes off her white nightgown and tosses it aside and falls asleep. Shortly after, she wakes up and reaches for some children's books set on the bed. She leafs through them, smiling at the pictures. She puts on a mint green nightgown and brushes out her hair and later stands on the bed. She starts dancing and sprinkling pink feathers
throughout
the bed and stops. She slowly climbs down and with a very sad expression she lies on the floor, her head in the teddy bear's lap and falls asleep.
(And don't forget to like my page~
)
Finally I got to take a picture with Masuda-san himself! (And get this, our outfits kind of matched!)
Polka dot fans!
The exhibition was great and I'm so glad I decided to go to the last performance. If you're in NY this month, be sure to go see it! The exhibition is on until March 29th and,
for further details about it, you can go to their Facebook event page
.
In the mean time, enjoy this short video of the exhibition from Yani's instagram!